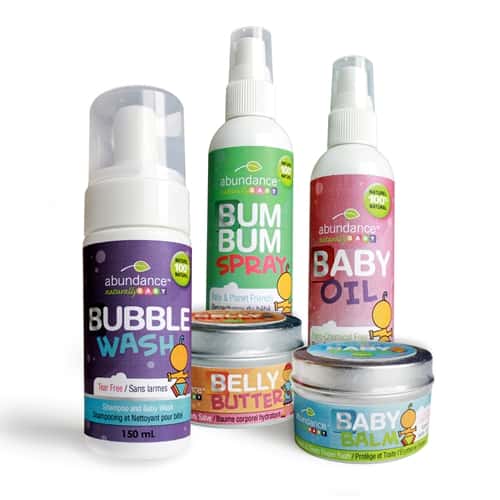 I love/hate it when a company contacts me and tells me how "natural" its products are. More often than not, I can't even review the products because they contain ingredients that I generally won't put in or on my kids.
This has happened with lower-priced products like Boo Bamboo, and even higher-priced products like those from Arbonne Baby (who don't even seem to list all of the product ingredients on its website) and California Baby. All three lines contain a very controversial preservative called sodium benzoate. Yet they can skirt around the natural claims because sodium benzoate is naturally derived.
When Abundance Naturally Baby made a natural claim and sent over a basket of goodies, the first thing I did when they arrived was look at the ingredient lists. Shockingly, every product is squeaky clean. Here's an example; this is the ingredient list for its Abundance Naturally Baby Balm:
Vitis vinifera (grape) seed oil
Prunus dulcis (sweet almond oil)
Beeswax
Calendula officinalis (marigold)
Stelloria media (chickweed)
Althaea officinalis (marshmallow) root
Hydrastis canadensis (goldenseal) root
Mentha piperita (peppermint) leaf oil
Lavendula dentata (lavender) flower oil
Santalum album (sandalwood)
Tocopherol (vitamin E) oil
Guess what: no preservatives. Guess why: no water. As soon as you put water into a product, you have to add a preservative. And why add water, you ask? Think about it – it's cheap filler.
All of the products are amazing, but there are two I'm going to call out in this post. First, the 
Abundance Naturally Baby Bubble Wash
(only $11.99), is an outstanding – and truly all-natural – body wash. I never worry about washing my kids with this product, and I love that it comes out as foam. That said, although you can use it as a shampoo, it's not ideal. In our experience, it doesn't let you lather very much or for very long and it takes a lot of product to get hair really clean.
Here's what my pregnant colleague, Jen, had to say about the Abundance Naturally Baby Belly Butter (also only $11.99):
"Being pregnant with my first baby has led to two bits of self-discovery:
No amount of neurotic Googling or flipping through What to Expect has stopped me from assuming things that are perfectly normal are not normal.
My preference for all-natural products has gone into overdrive. I'm the type of person who makes her own cleaning products and uses all-natural makeup (so when I had a chance to test out Abundance Naturally Baby Belly Butter on my expanding bump I jumped at the chance).
I had the expectation when I got pregnant that I would be blessed with this miraculous 'glow' everyone talks about, but apparently my skin and hair missed the memo and needs extra TLC to combat the dry, tight and itchy feeling I now have. I've been using the belly butter religiously the past few months and there is still quite a bit left in the tin. It's very moisturizing, and once it sinks in is not too greasy. Still, I would not wear this under anything that can stain, just in case.
I love that this is a Canadian product and uses natural ingredients. Your skin absorbs everything that is put on it, so having a product that relieves an itchy, stretching baby bump without the use of chemicals or artificial ingredients is amazing.
What I did not like about this product really comes down to my own personal preference. I prefer products with a bit of scent in them (like lavender, vanilla or rose). This belly butter is unscented, which is perfect for anyone who prefers unscented products. Also, I found the belly butter has a bit of a strange consistency – not completely solid but not a liquid. It makes taking a bit out of the tin so much easier, but since I'm used to body oils it was just a different process for me. My husband appreciates that this is much less messy than my oils that spill all over.
I'd recommend this product to any expectant mamas who prefer all-natural products. Would also be great in a gift basket for an expectant friend."
As someone who used an $18 tin of belly butter throughout her pregnancy, I'm going to chime in because I think the $12 price tag is really reasonable. And, like Jen mentions, knowing that toxic chemicals aren't seeping into your – and your baby's! – blood stream is a special kind of awesome.
You can order Abundance Naturally Baby products directly from its Canadian website.
Check out these related posts: